The predecessor to Animation Paper was invented almost two decades ago and has been used and loved by animators (professionals, students and hobbyists) through out the world since then. Although PAP still have an incredible fan base, it is all too obvious that PAP is old. Hopelessly outdated. Some features were designed for times long gone and especially the interface is a complete embarrassment, not least for us, the creators (Jakob & Niels), who were the first to admit this. That's why we, 4 years ago, decided to stop taking money for it and just give it away for free. Amazingly it is still, today, being downloaded 4.000 times each and every month. (Go to the Old PAP – Free Download section to grab it. Windows only.)
What made PAP so good (I'm sure most users will agree), was its ease of use, its fast engine and its simplicity. When you got going it was just a lot of fun. The program is old, but the core PAP values are still excellent…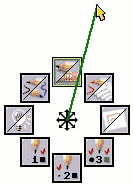 So why not reinvent it for modern times? Set the new standard for how animation software should be? Rip away the stuff that doesn't make sense today. Redo the interface completely. Rethink everything! PAP had a set of good principles going – and a very fast core under the hood – we can build on that.
With the help of the animation community, the new hand drawn animation movement, old fans and everyone interested we are on the path to recreating PAP from the ground up as the awesome hand drawn animation app for tomorrow.
Let's keep it light weight, simple, efficient, easy, powerful and fun.
As mentioned elsewhere – plans are to develop it as an Apple Mac OS X app first. After that we will look at Windows and iPad versions. [UPDATE: AS OF 2016 THE PLAN IS TO DO PC AND MAC VERSION SIMULTANEOUSLY.] The "plastic" is gone, now it's simply called Animation Paper.
Let your voice be heard! What do you think? What makes an awesome hand drawn animation app?