We just did a small interim update (Alpha 4.1), to accommodate a few user wishes.
Here's what's new:
When importing a frame stack, Animation Paper now recognises numbered sequences with gaps. The gaps means frames will be held (clone drawings added to keep original timing).
Here's the dialog box (as it looks on Mac):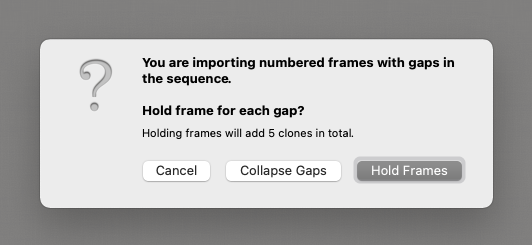 Also:
There's now an option to make the drawing cursor clear or faint. (Some users like it clear and contrasty so it is highly visible - others like it faint and much less distracting. Faint is the default setting.)
For Windows users, we have added a portable (zip) version to download and install if you don't have admin privileges. (Like on a school computer).
Very few users had problems installing. Hopefully these rare issues are now fixed for everybody.
Various other bug fixes.
Go to DOWNLOAD PRE-RELEASE to update. Enjoy!
Cheers,Niels